Introducing a groundbreaking project by one of our users: "Eurofootballdata".
They've unveiled a web-based soccer analysis and prediction application, designed to elevate your game and enhance your soccer betting experience.
With extensive coverage of 1,000+ teams, players, and cups spanning 100+ countries, this platform offers fully automated data and predictions, available 24/7, 365 days a year, accessible on any device.
ALL-IN-ONE CONVENIENCE
Comprehensive global football data coverage, in-depth analysis, and predictions for over 1,000 major football leagues, cups, teams, and players. These insights are generated using a sophisticated football-betting algorithm, encompassing:
Home Win, Draw, Away Win
Double Chance
Draw No Win
Both Teams to Score
Over and Under Goals (Full Time and Half Time)
Over and Under Corner (90 minutes)
Corners in Range (90 minutes)
Home Team and Away Team Corner Match Bet Form
Home Team and Away Team Half Time Win Form
Daily Accumulators and Bet Builders, crafted by state-of-the-art algorithms.
MATCH LIST
Access a complete list of major league matches worldwide for the next 72 hours. You can utilize the search bar to find specific teams (the system offers auto-suggestions), filter results by time or league name, and conveniently navigate to detailed statistics and predictions under "Analyze." Additionally, quick links to Home Players and Away Players' comprehensive data are available.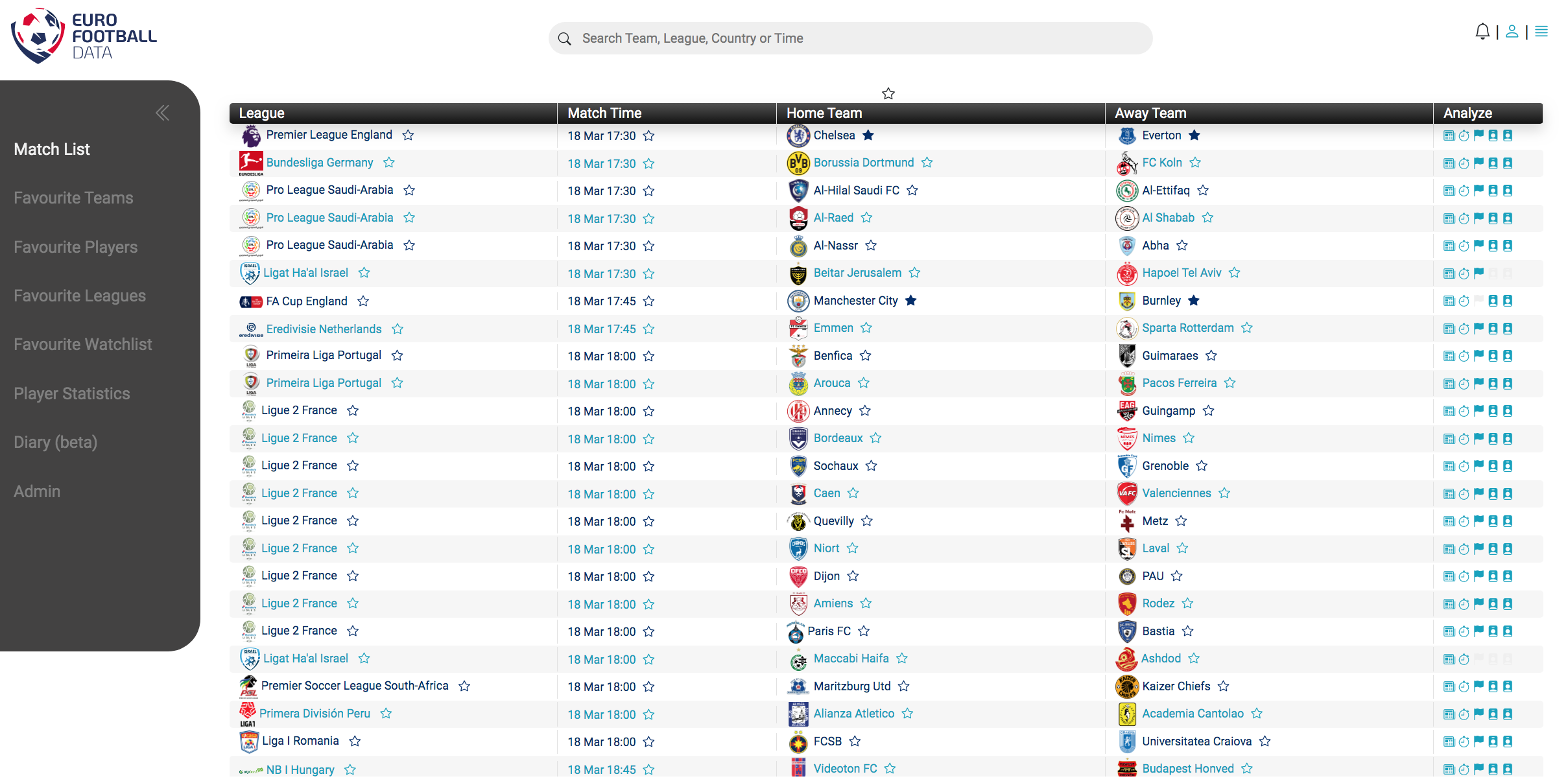 ANALYSIS PANEL
Explore detailed match analysis and predictions for both home and away teams. The panel provides a wealth of stats and predictive data based on historical trends, akin to the methods employed by bookmakers in setting odds.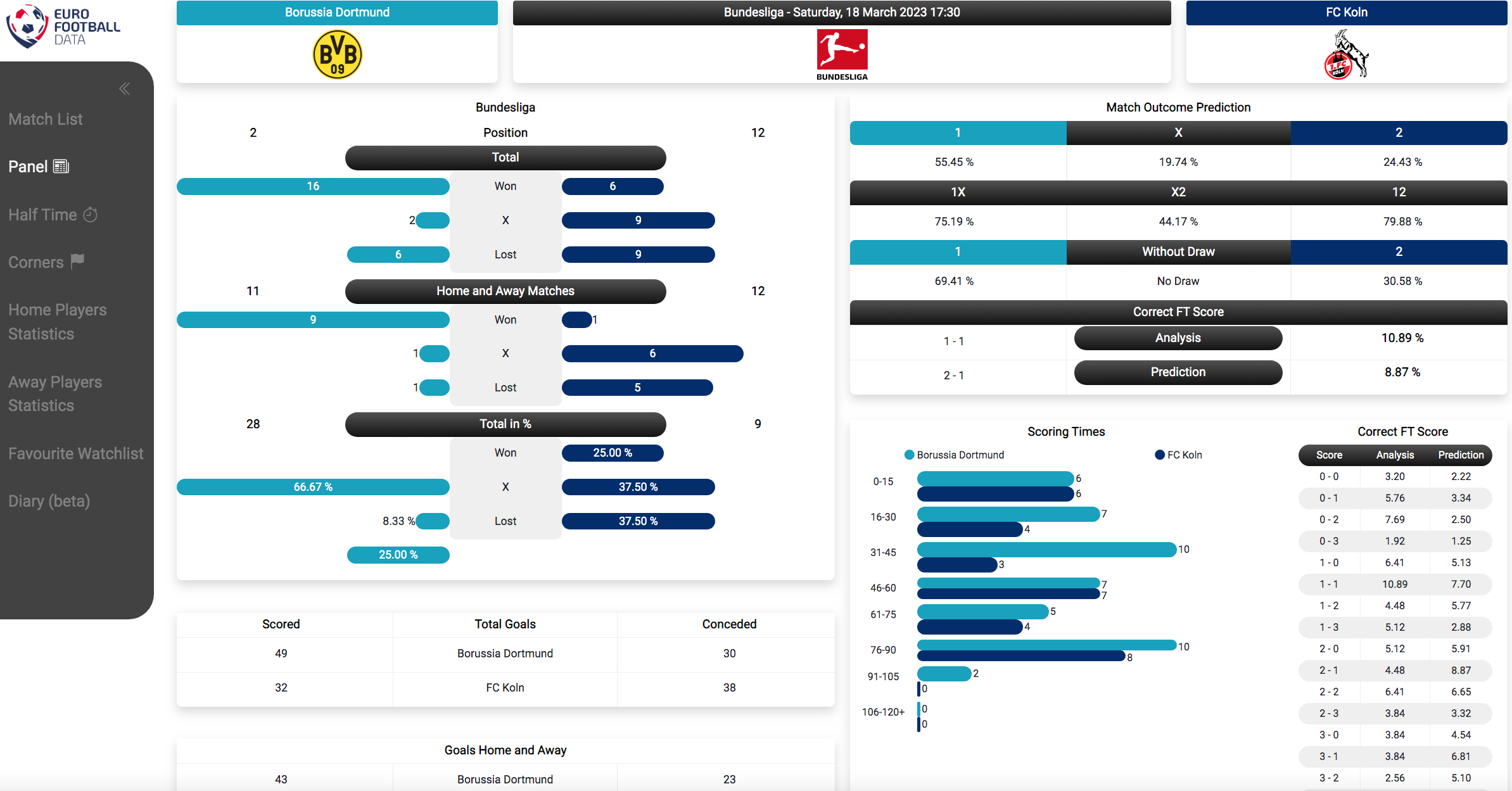 HALF-TIME INSIGHTS
Delve into detailed half-time analysis and predictions for both home and away teams. This section presents average half-time goals by team and match, along with their recent half-time performance over the last five matches. You'll also find predictions for half-time goals (over/under) and correct half-time scores, alongside insights into scoring times.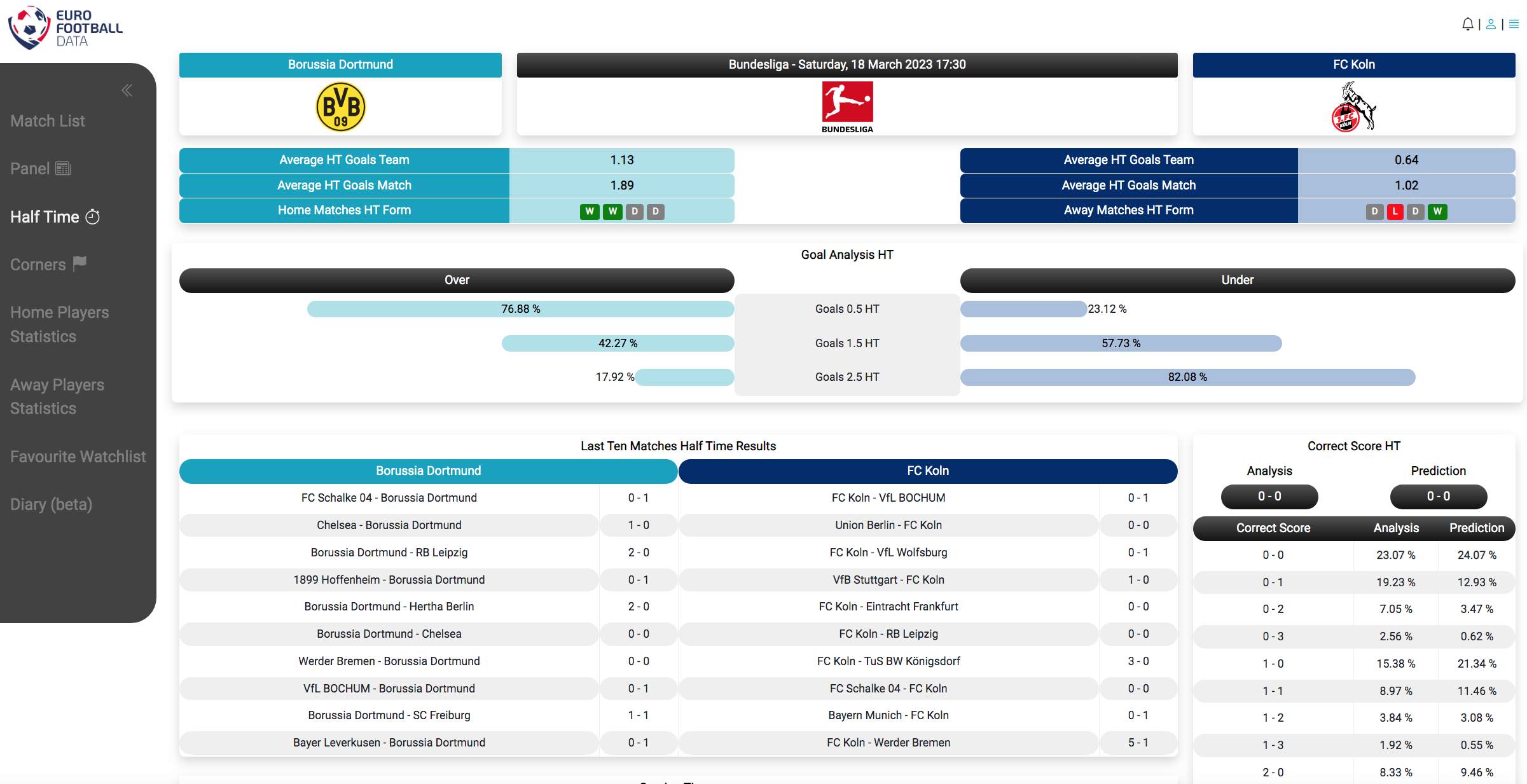 CORNERS ANALYSIS
Uncover a comprehensive analysis of corners for both home and away teams. This segment offers insights into average corners per team and match, as well as their recent corner match-winning form over the last five matches (90 minutes). You'll also find predictions for the over/under corner outcomes, complete with percentage likelihoods for specific corner numbers and corner ranges.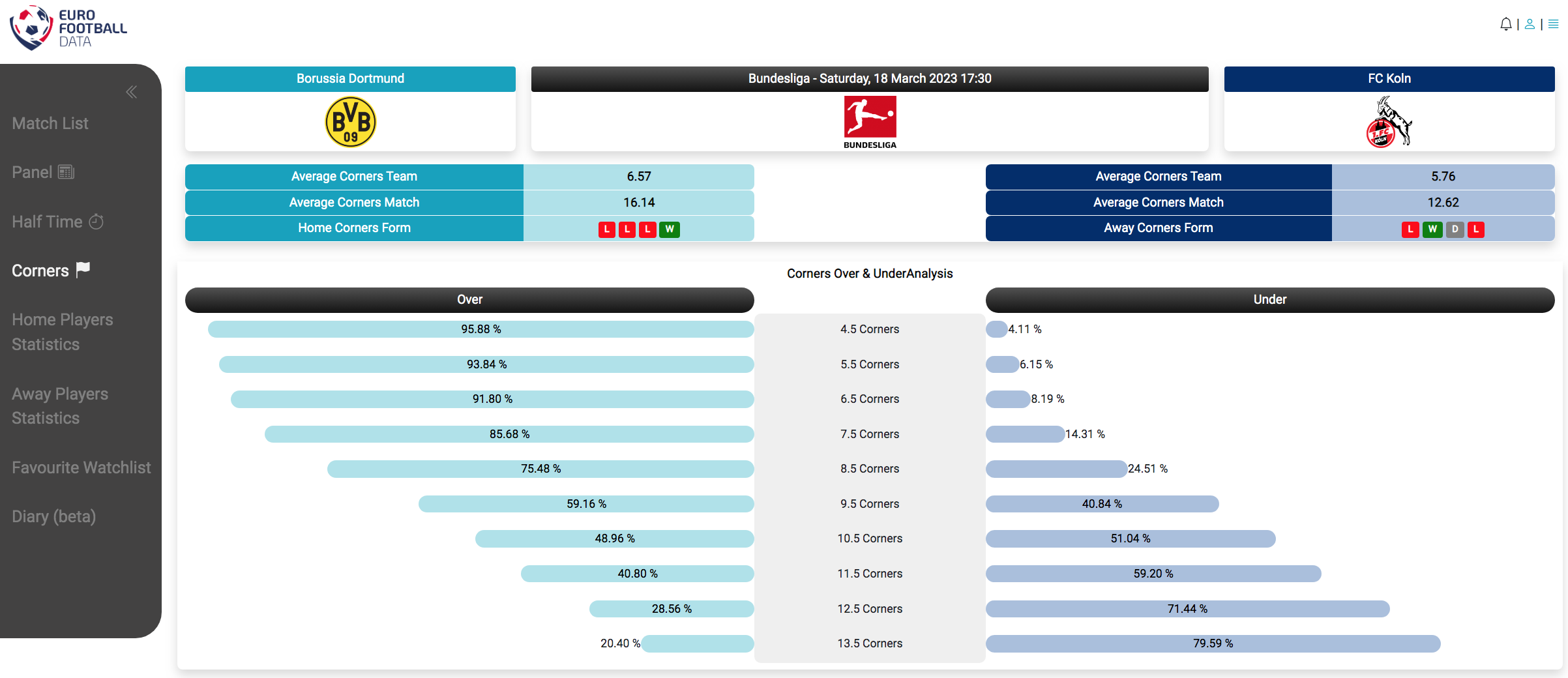 FULL PLAYER STATISTICS
Discover a wide array of player statistics, including total shots, shots on target, key passes, fouls, duels, tackles, dribbles, substitutes, top scorers, goal count, assists, field penalties, cards, saves, and conceded goals.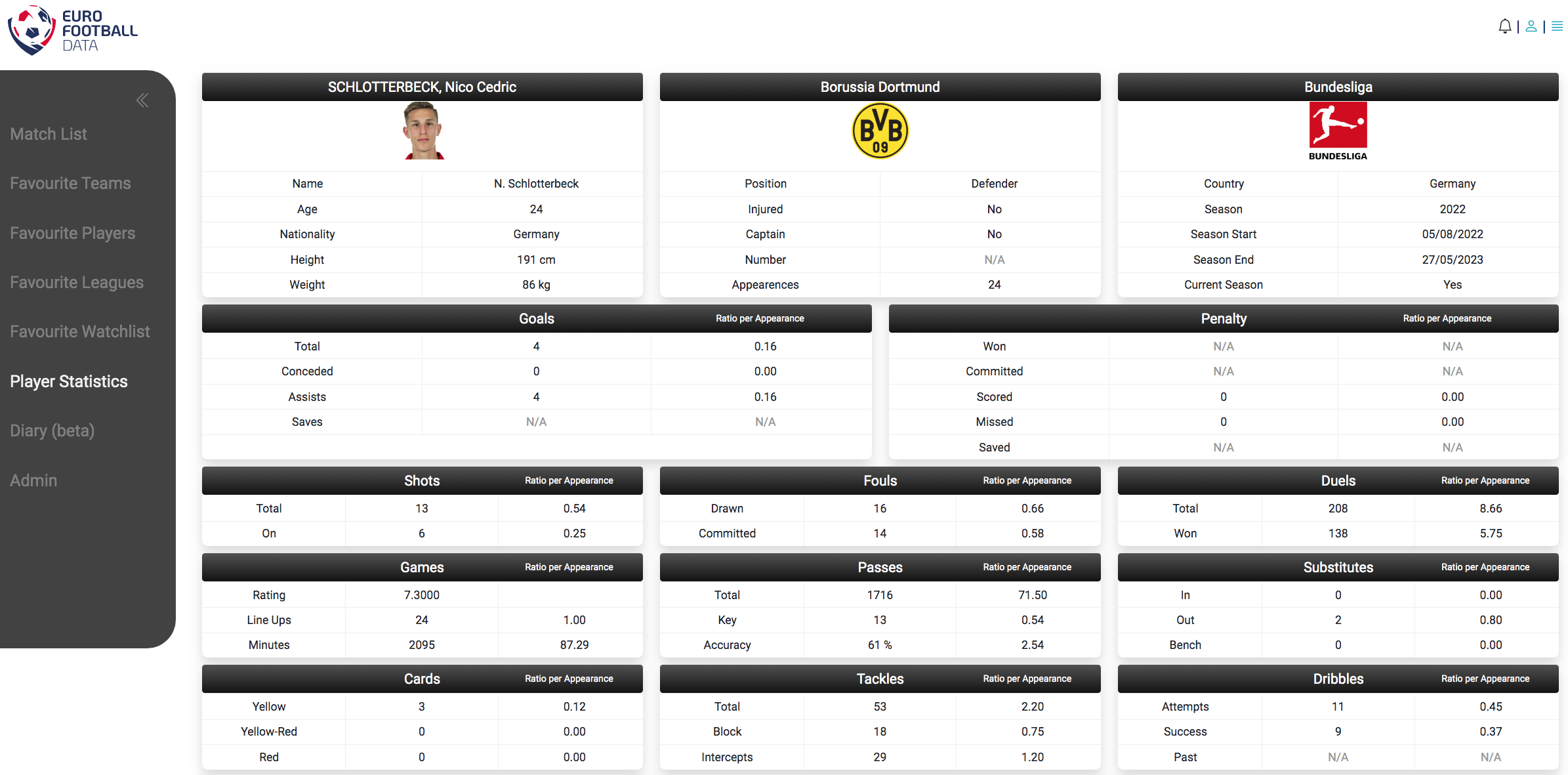 FAVORITES WATCH LIST
Access full statistics and predictions for your favorite matches, conveniently compiled in one place. Direct links to data and predictions are accessible by clicking on the percentages. Within the watch list, you can filter matches by percentages, leagues, and possible outcomes, such as both teams to score, over 1.5 goals, corners, home wins, and double chances.
Clicking on any percentage under "Outcome" or "Both Teams to Score" instantly takes you to the analysis panel for a comprehensive overview.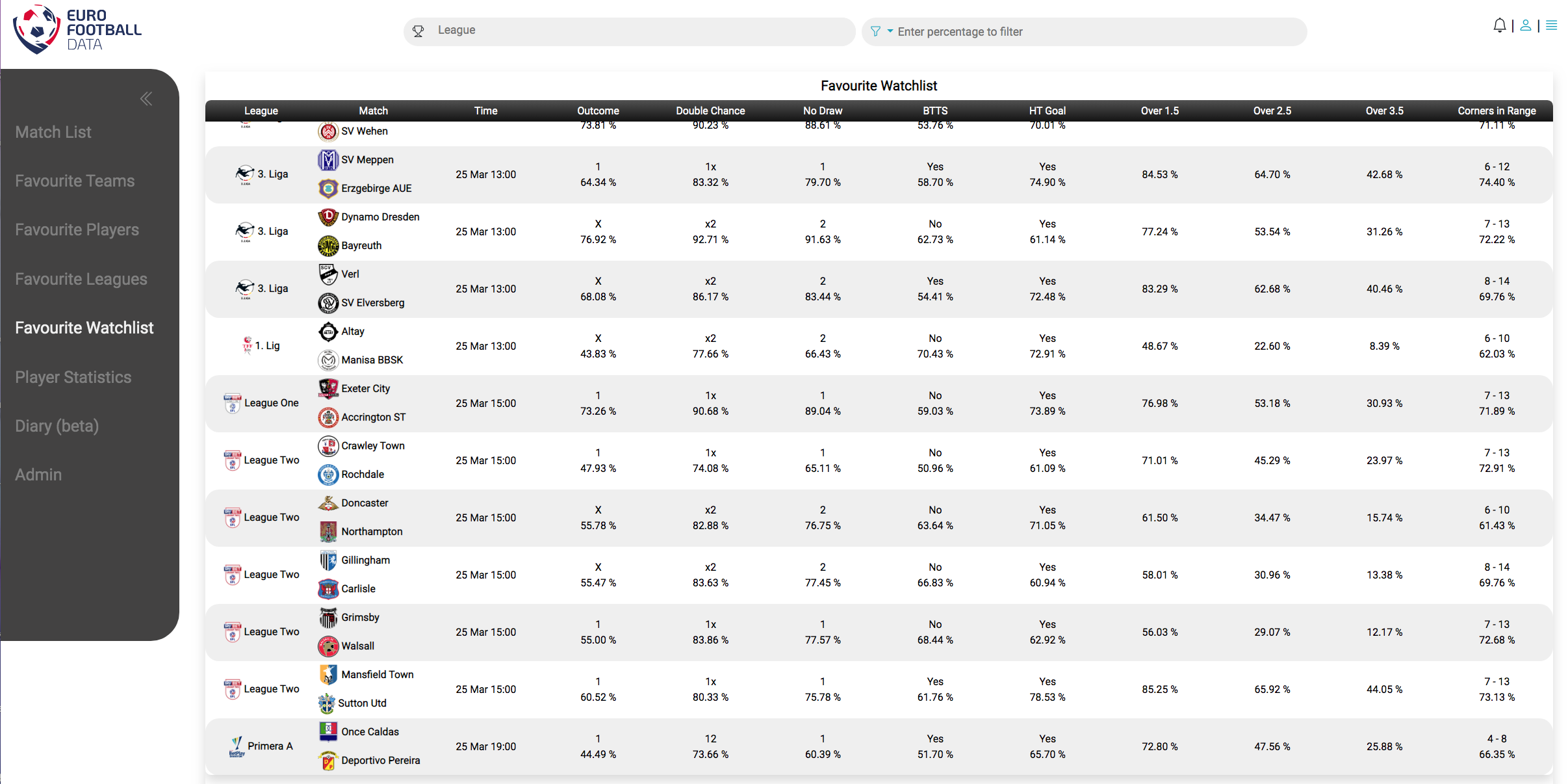 Explore numerous other features on their website. You can sign up for a FREE account here.
Please note that API-SPORTS is not associated with this project and does not receive compensation for the publication of this article.